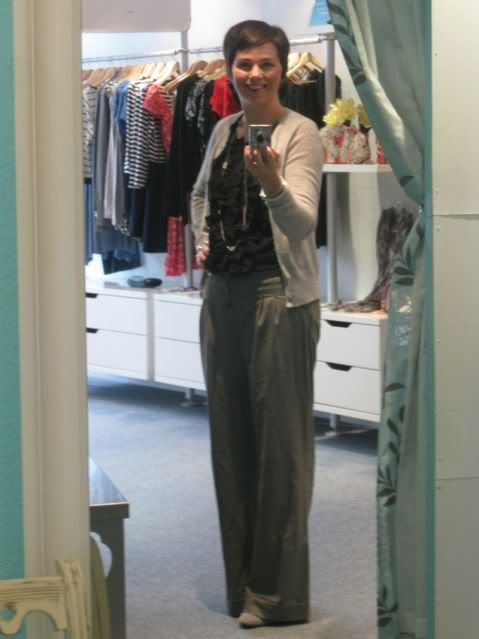 I am actually posting the outfit that I have on, on the day that I am wearing it. I have to say that I am rather impressed with myself for remembering to bring the camera, take my picture and post. Now I just need to try and stay on my roll!
When I was pregnant I had a bit of a hormonal clear out. I eBayed so many clothes and used the money for nice things when we were on holiday, and nice things for the baby. I did not think about the pieces I just found them, thought when am I going to fit/wear that again?? I now regularly go to wear something and find it gone.
This morning I came across these trousers and thought I had sold them!! I am rather glad that I did not. They are so comfortable and I love the menswear look that they have.
Today's look is:
Trousers - Vila
Blouse - Charlotte Russe
Cardigan - J.Crew
Boots - Emporio Armani
Necklace - Forever 21
As well as being a slack blogger I have been a slack weight watcher lately. At first all was fine but in the last week I feel sluggish, my skin is not as nice as it was and I have the bloated feeling in my tum. We are off on our holidays in the coming weeks and I need to get my head back in the game to give me a good head start before I have 2 weeks of good food, nice wine and gingerbread lattes!!