Remember way back when....... and I listed things that I wanted to do this year??
Well, I have something to show you guys.
Making our house a home by introducing colour and personal taste was a huge thing. We have lived in our house for almost years and have done no decorating. Everywhere had been freshly painted cream (boring) just before we moved in. We decided that it was a nice fresh background and it let us get a feel for what we wanted.
We were in B&Q around Christmas time and I decided to take a look at the wallpaper area. I saw a beautiful roll of open paper with a very bold pattern and it stunning bright colours. However, there was no more. I carried on browsing and saw rolls and rolls of it in the clearance area down from £20 per roll to £5 per roll. I showed it to my bf and he loved it as much as me.
I thought it would be perfect for our hallway. It is an odd hallway as it can be dark and it has lots of doors leading off of it. The paper was way too over the top to have everywhere so we thought it would make a fabulous feature on the wall opposite the front door.
We have had the paper for over 2 months and have been waiting on my dad having a free weekend to put it up for us. He did it this weekend and I LOVE IT!!
Sorry I totally forgot to take before pictures!!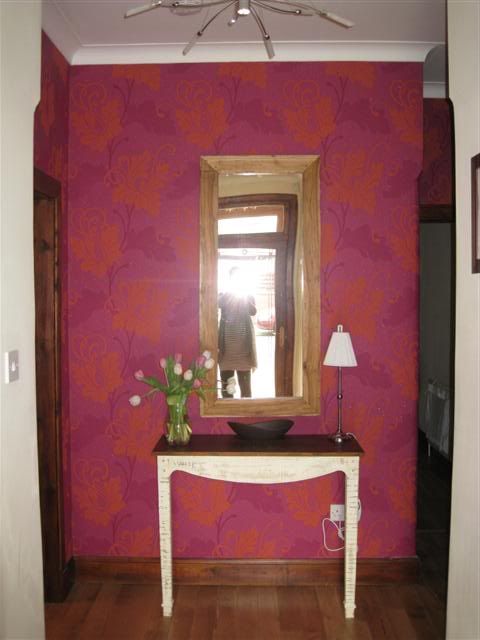 Everyone that knows me, knows that I am obsessed with the colour orange! I was so having orange somewhere in the house. I love that it is on a very pink background!