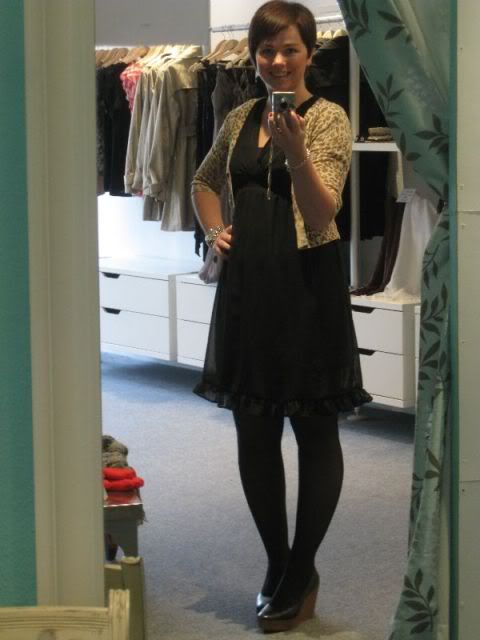 I had a slightly different outfit planned for to day, but when I put it together is was not quite right! I then remembered about my trusty leopard print cardigan and thought "Ah ha" and the day was saved!
Next time I wear this I think I may try my brown, heeled, knee high boots with it as I think they could work well with this look! I did not have time to dig them out from under the bed this morning!
I have been feeling a bit blah lately what with a poorly baby, lack of sleep, it being January, it being cold and wet etc - you get the picture!! But last night I decided that enough was enough and I gave myself a face scrub (deep clean) and mask and a mini pedi!! What a difference those two little things made. I feel a bit brighter and like my skin (although still being a bit teenage) is better! So this evening I am going to apply a bit of tan - I love the way that my skin is in Summer, so I am going to re-create it!
Today's outfit is:
Black dress - Vila
Tights - Primark
Cardigan - Forever 21
Shoes - Faith
This weekend turned out to be a great one! Orla started to pick up and actually get better and my family got together for my mums long service award dinner! She has been with her employer 25 years! The meal was lovely and afterwards we went back to my parents house for some wine, nibbles (not that we needed them) and some Just Dance on the Wii! It was great!
Here is a picture of Orla and I at the dinner! No full outfit shot, sorry!