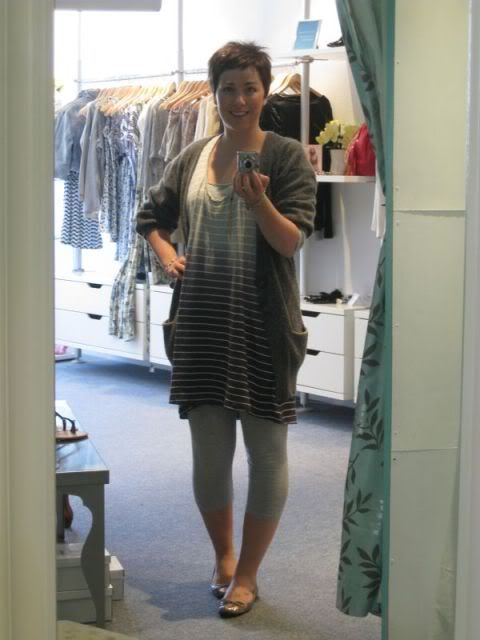 It is a Bank Holiday here again today! The schools are all off and pretty much everyone has a day off work - unless they work in retail!!
It is a gorgeous bright sunny day here so far and there are plenty of day trippers out and about! For me it has been a morning of dressing gorgeous little baby bumps - it is really very nice helping pregnant ladies find something that is stylish, comfortable and feels somewhat like them!!
I do not usually work a Monday, things were a bit rushed this morning and I ended up in a much more casual outfit that I had planned in my head! But it has worked out well for the kind of things I have been getting done today.
Today's outfit is:
Striped tunic - Blend @ i am.....
Leggings - Target
Cami - Primark
Cardigan - River Island
Shoes - American Eagle
I have a question for you all! Do you carry a make-up/cosmetics bag around in your handbag? If you do what do you carry - everything or just the touch up essentials?
The reason I ask is, I do carry a make-up bag. It is small and crammed full of varous lip glosses, balms, paracetamol, perfume and bronzer/blusher and brush! This today has broken and made a huge mess. I am going to have to clear out later and I think I am going to re-organise things a bit!