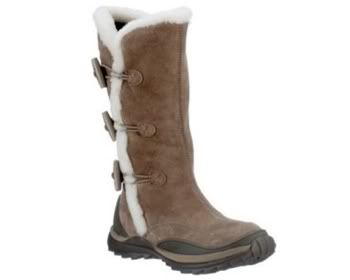 I was recently asked, by the lovely people over at Fitness Footwear, to pick a pair of shoes or boots from the HUGE range of Caterpiller shoes that they stock to review for them. As you can imagine I was more than happy to oblige.
I then spent the next hour or so going through every single Caterpillar style that Fitness Footwear had in stock. First of all I have to point out that Caterpillar boots are much better now than what I remember from the 1990's! After having a good look I thought about what I was needing and what (if anything) was missing from my shoe/boot collection.
As you know there is a new puppy in my life and she loves her 2 walks per day no matter what the weather!This was the area that I was going to add to. I have wet, yucky weather covered with my wellie boots, I have the dry nice day time weather covered with my trainers, but there is gap for the cold, frosty, slippy weather.
I needed (as much as a person with a huge amount of shoes and boots can need) nice cosy warm boots that offered some ankle support and that had a good chunky rubber sole. In the end I opted for the Caterpillar Bebot. I chose the lighter colour which is Houndawg.
They are fabulous - I love them. They are so comfy and cosy and I think they look great with my skinny jeans tucked inside!!So far I have worn them to scramble over the slimy rocks on the beach and I did not even slip. I have worn them on very cold but dry nights and my feet and ankles have been lovely and snug. And on Sunday I wore them when we took the dog for a walk in the woods and again they were simply fabulous!

Get yourself over to Fitness Footwear and check out the range of Caterpillar shoes and boots - not to mention all the other fabulous styles that they have on offer!