As promised last week I have a fabulous sponsored giveaway for all of my lovely readers.
The amazing Wonderland Boutique on Etsy have very kindly given me a beautiful handmade clutch bag and coin purse, in a beautiful black fabric with white polka dots, to offer to one lucky blog reader.
Wonderland Boutique has been selling her fantastic creations via Etsy for just over a year. She uses beautiful bold and vivid prints to create her unique designs and loves all things retro, kitsch and vintage! The range for sale includes the clutch and coin purse, that I have to giveaway to one of you lucky readers, as well as tote bags and cosmetic purses.
The prices are simply fabulous for such an amazing and unique product and the shipping (Wonderland Boutique does ship internationally) is very reasonable - especially when you see the care and attention that is taken. The item comes from Wonderland Boutique wrapped in tissue paper tied up with ribbon (great of you are buying for a gift) and there is a little sweet treat popped in the package for you!
As mentioned the clutch and coin purse on offer are made up in a black fabric with white polka dots - making it an instant classic!
Here is what Wonderland Boutique have to say about both styles:
Coin Purse - The coin purse is the sweetest little accessory. With a lovely zip closure, these dinky purses are secure enough to fill with of your goodies - from your cards and cash to your lipstick and gum - and sling safely away in your bag. Strong and fully lined - these are great to give as a gift or to just treat yourself to.
This coin purse is handcrafted in a quality polka dot print cotton - all in tones of classic black and simple white. It is accented with 3 adorable button stacks in white and polka dot.
The coin purse measures: Width - 13cm (5") Height - 10.5cm (4").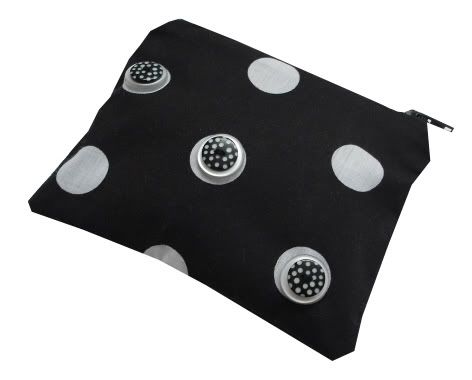 Clutch Bag - Wonderland Boutique's clutch bags are the most elegant of accessories with a beautiful button closure and a nice large size. These are secure enough for all of your goodies - from your wallet and phone, to your keys and diary - and tuck away sweetly under your arm. Lightly interfaced for structure (it is what you put inside these clutches that gives them their shape) and fully lined.
Handcrafted in the same fabric as before, it is further embellished with some horizontal ribbon edging in black and white. This clutch bag comes fully lined in a black polycotton and has a button stack closure.
The clutch measures: Width 30cm (12") Height - 14com (5.5").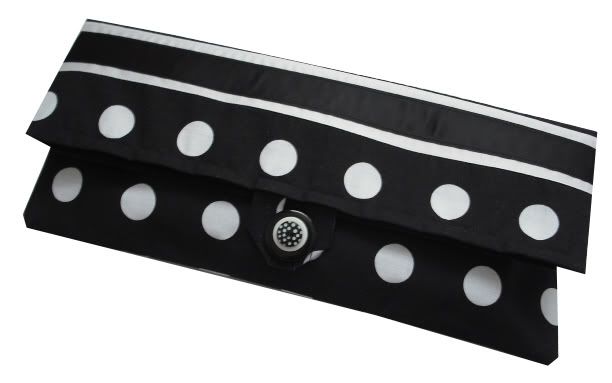 So, all that you have to do to be in with a chance of having these amazing items is.......
Leave a comment on this post - it is as easy as that. However, if you really love them and want extra entries then Tweet about this giveaway if you are on Twitter and post a link to this post on your own blog - each gets one more entry into the giveaway!
Edited - So sorry I was not concentrating yesterday I missed out the following information: The giveaway is open worldwide. The giveaway will close on 28th July 2009 and I will draw a winner using random.org. Please let me know in your comment if you have created a link or tweeted about the giveaway so that I can check them out! Thanks.