Today is a big day for me!!!!!
Why? You ask! Well, I am wearing maternity trousers!!! My own clothes do still fit me, but they get a bit uncomfortable when I wear for a long time.
Today I really wanted to be comfy as I slipped on some ice yesterday and fell (trying to be healthy and walk to work). The baby and I are fine but I landed pretty heavily on my left hand side and this morning I was like an old lady trying to get up and out of bed.
I got these cord trousers from Target when we were in Orlando - I actually really like the style of the leg (not the elastic, adjustable waist band) and I think that they make a nice change from jeans. My bf got me the All Stars for Christmas with these trousers in mind.
When I finish work today I am heading straight home to put my PJ's on, make the dinner and lounge on the sofa!
I am going to indulge in feeling sorry for myself after my fall!
Today's outfit is:
Grey cords - Liz Lange for Target
White t-shirt - Forever 21
Cardigan - Vila @ i am.....
All Stars - Gift
Necklace - Primark
I thought I would leave you with some pictures of the cutie that is Bista!!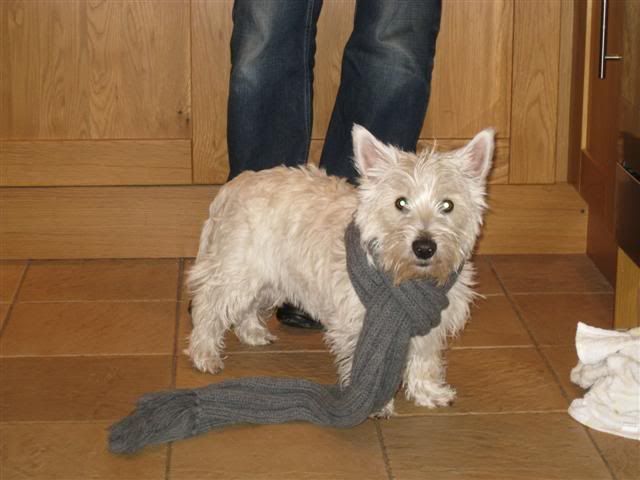 This one is just after her walk (no we did not make her go her walk like this) on Christmas Eve!
An this was on Christmas morning!