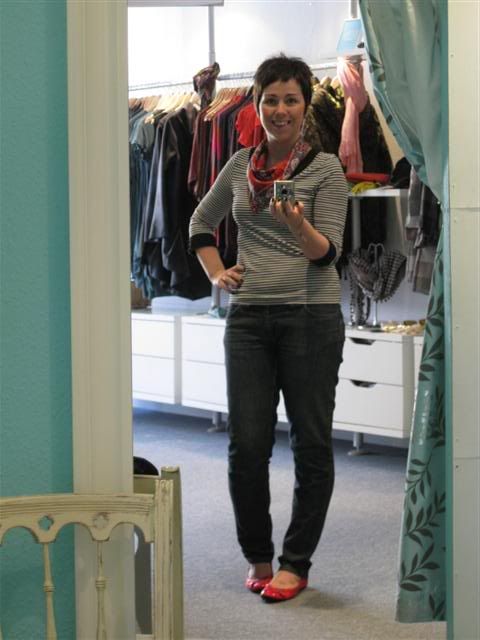 I was very tired this morning and was really lacking in outfit inspiration, so I decided to grab my go to! I do love this outfit and the scarf and shoes are what make it for me!
I had a lovely weekend and Monday off. Sunday was a first birthday party in Edinburgh, it was fun to catch up with all of the bf's family, get baby cuddles and eat cake! It was after 8pm by the time we collected the puppy and got home so I had a nice long bath and the bf and I lay along the sofa (with the duvet - the one thing that I love about winter...... snuggling) and caught up on Ugly Betty!
Monday I managed to do lots but very little all at the same time!! I got up at my usual time and headed to the supermarket, I was home by 10am. Bista and I then lay along the sofa for about an hour watching tv. I did some laundry, made a pot of yummy soup and cleaned the kitchen. I then went and me the bf for lunch. In the afternoon I popped round to my very pregnant friends house and had a cuppa and a chat. I then walked the dog and went for a swim. I managed to spend almost the entire day in yoga pants and a hoodie and really felt like I did nothing!
I have a dental appointment this afternoon - it is only a check up, so I should be in and out in minutes!
Today's outfit is:
Skinny Jeans - Vila
Striped t-shirt - H&M
Scarf - Echo via eBay
Shoes - Tod's